Leigh Goehring and Adam Rozencwajg were recently featured on Grant's Current Yield Podcast, where they spoke with Grant's Interest Rate Observer founder Jim Grant and Deputy Editor Evan Lorenz.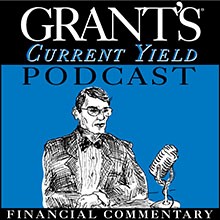 Image Source: Grantspub.com
The segment begins with a discussion of how cheap energy stocks have become. In particular, as of the date of this recording, the market capitalization of Apple stock exceeded the value of entire energy sector, according to Bank of America Merrill Lynch.
So why would anyone want to invest in the energy sector, given the extremely bearish psychology surrounding the space? As contrarian investors, Leigh and Adam welcome this type of radically negative sentiment and enjoy analyzing the evolving fundamentals that most investors seem to be missing.
Specifically, Leigh and Adam touch on market aspects including:
How the dozen counties of the Permian basin (not Saudi Arabia) could make or break the global oil market over the next 10 years.
Lower well quality and the base decline in American shale oil that will likely impact global supply.
How to accurately measure remaining shale oil reserves.
It's a gusher, listen here: Grant's Current Yield Podcast with Goehring & Rozencwajg.
---