Here at Goehring & Rozencwajg, we are value investors. We think the best time to find value is when investor sentiment is bearish, price is depressed, equities are cheap, and our fundamental analysis tells us the supply and demand dynamics have changed.
Right now is an extremely exciting time to be a contrarian investor in the natural resources arena. Commodity prices have remained in a bear market since 2014, while the S&P 500 Index has marched steadily higher. The result is that commodity prices, compared to the S&P 500 Index, have never been cheaper.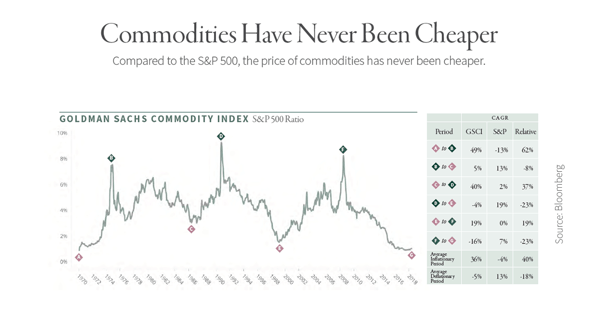 Also as a result of the performance disconnect, the weight of the energy and materials sectors within the S&P 500 Index has plummeted, as illustrated by the graph below.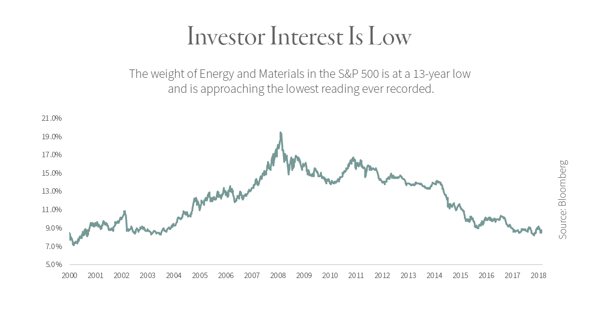 Historically, the strongest natural resource investment returns have occured after long periods of market underperformance1, which we believe bodes well for returns going forward. At Goehring & Rozencwajg, our two portfolio managers, Leigh Goehring and Adam Rozencwajg, have 37 years of combined experience managing natural resource investments, in both bull and bear markets. We believe the following three tenants have helped us outperform the majority of our peers:
RESEARCH-DRIVEN PROCESS
Our investment process is entirely driven by original research from which we derive our long-term commodity price assumptions, which often differ significantly from consensus opinion.
CONTRARIAN VALUE PHILOSOPHY
We are value investors. We strive to realize the highest level of capital appreciation by investing in global natural resource markets without incurring excessive risk.
FOCUS ON PERFORMANCE & FEES
We seek to deliver top quartile performance in our peer group over a 3 – 5 year time horizon while simultaneously striving to keep our expenses and fees in the lowest quartile in our peer group.
To learn more about our firm, investment process, and forward-looking views of the commodity markets, we encourage you to explore our Process Overview which is available here.
1 Source: Bloomberg, Goehring & Rozencwajg models