Natural gas prices have surged 20% since mid-September, though the rally is likely behind us.
Unless you follow the natural gas market or received a bill from your energy company recently, you may have missed the 20% run-up in natural gas prices. While still low relative to prices over the past decade, natural gas traded above $3.20 in early October for the first time since January, and have since rose further to approximately $3.50.
Trailing Three-Month Natural Gas Prices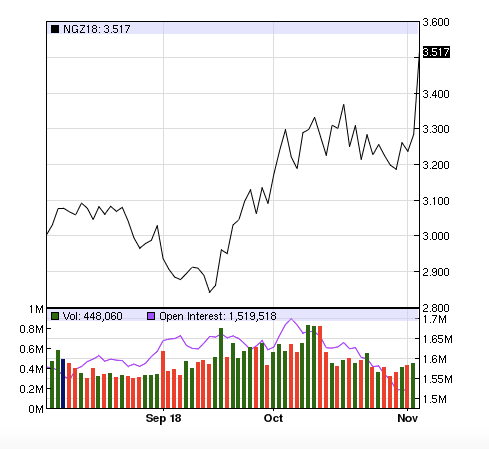 Image Source: Nasdaq.com
This comes despite continued high production (we recently penned a blog illustrating the dramatic increase in well efficiency - read blog here) and a traditionally weak time of the year for gas prices.
As a backdrop, natural gas inventories remain at their lowest levels in over a decade, and this has amplified concerns and price volatility stemming from recent energy disruptions. The arrival of Hurricane Florence in the Carolinas resulted in Duke Energy shutting down two nuclear power reactors at its Brunswick power plant in mid-September. This resulted in a loss of approximately 17 gigawatts of power which was made up elsewhere, including gas-powered electricity sources.
Duke Energy's Brunswick Nuclear Power Plant
Image source: https://www.bizjournals.com/charlotte/news/
Colder-than-expected temperature forecasts across part of the U.S. also led prices to tick higher for a period of time, although these forecasts largely did not come to fruition. Instead, the opposite happened - temperatures across much of the country remained higher than usual. This resulted in heightened levels of gas used for electricity through the end of September as consumers continued to run their air conditioners.
Even in the face of an inventory deficit, we simply cannot get constructive on US natural gas with production growing as quickly as it has been. For example, in July (the last month with available data), US dry gas production grew by 8.7 bcf/d on a year-on-year basis, another all-time growth record (the third such record set in the last 12 months). Furthermore, these records were achieved with a rig count that is 50% below where it was five years ago and 90% below its peak in 2008. This robust production, among other reasons, lead us to believe the recent rally in natural gas prices will be short lived.
We recently released our Q3 Commentary, Into The "Red Zone" We Go, which includes an in-depth analysis of the state of natural gas, and why we are more excited about global liquefied natural gas (LNG). You can download the full Q3 2018 commentary here.