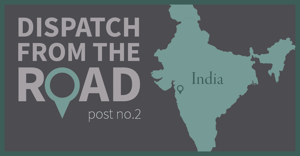 As we discussed in our Q4 2017 letter, one of the most important drivers of a country's commodity demand growth is the rate at which its population urbanizes. As a population moves from the countryside into cities, there is a dramatic increase in demand for both materials (to construct infrastructure and buildings) and energy. We believe India will become extremely important to global commodity markets. Sifting through the data is essential, but since pictures tell a thousand words, we have decided to return to India to conduct an in-depth research update.
The question we are trying to answer is:


Will India be able to urbanize its population in line with expectations, and how will this impact total energy demand?
Today, we toured the Bandra Kurla Complex (BKC) development project. BKC is a planned commercial complex in the city of Mumbai. The complex is expected to decongest southern Mumbai and seed new areas of planned commercial real estate in the metropolitan region. Features include many notable international corporations, hotels, parks, hospitals, a cricket stadium, and concert venues.
The last time we toured the BKC was in 2011. At the time, the site was merely a sandlot with countless workers milling about. Now, 7 years later, we stayed at the same development at a 5 Star Sofitel. The BKC project now has 400,000 employees that work here every day. There is an underground bullet train station approved for the site with the proposed construction to begin around December 2018. It is easy to see why BKC has become one of the most popular residential and commercial projects in Mumbai.
Below is a before and after photo of the project. The scene feels like an Atlanta suburb.
As Leigh likes to say, this is what a decade at 7% growth can do.
For more data and research as to why the contrarian value team at G&R believes India will become extremely important to global commodity markets, please read our most recent market commentary. In the spirit of transparency and accessibility, the G&R team offers free access to investors, prospects and friends of the firm.
Using our comment section below, please share your thoughts or questions on anything related to commodities. We welcome the dialogue!
~Adam Rozencwajg