We're halfway through the year, so we thought it would be a perfect time for us to pause and reflect on our written works. Below are the three most viewed blog posts for the year 2023 so far.

Thank you for your support, and we look forward to continuing to provide you with valuable content.

Best wishes always,
Goehring & Rozencwajg
---

The End of Abundant Energy: Shale Production and Hubbert's Peak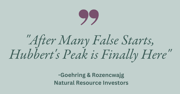 Crude oil fundamentals are very tight and risk getting considerably tighter. Investors continue to starve energy companies of much-needed capital, the lifeblood of a solid supply base. Although the trend of lower spending has been in place for several years, our models tell us we are nearing a critical inflection point: the growth in shale oil production -- the only source of non-OPEC+ production growth over the past two decades --- may be coming to an end.

Continue Reading >
---
Is Gold in a New Bull Market Phase?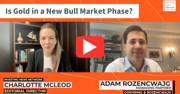 "We think that gold has entered into a new phase of this bull market," said Adam Rozencwajg of Goehring & Rozencwajg (G&R).

G&R has been bullish on gold for quite some time, but we have been mostly out of the market for the last couple of years. Now we see signs that it's time to get back in.

Speaking to the Investing News Network, Adam Rozencwajg, Managing Partner at G&R, mentioned that in 2020 two factors prompted G&R to take a step back from gold. The first was that the gold-oil ratio was favoring energy, and the second was that silver had caught up to gold.
---
Base Metals: A Decade of Shortages Ahead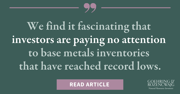 "The Decade of Shortages" was the unofficial theme for our investor day, held on November 3rd, 2022. Our audience heard presentations from five guest speakers and the two eponymous partners, outlining fundamental trends in various commodity markets that confirm our thesis. We discussed how we believe the shortages in the first two years of this decade were destined to be repeated multiple times in different commodity markets as we progressed through the remaining years. ESG pressures have forced significant redirection of capital spending away from extraction industries to renewable projects, shifts in global power from unipolar to multipolar, war, supply-chain breakdowns, changing weather patterns, and under-appreciated shifts taking place in the geology or extractive industries — all were discussed as well their supply impacts on various commodities.

What was not discussed at our conference is a great shortage we believe is in the making.

---