"While it is still possible to grow production, it is requiring more and more effort to do so. Eventually, the deterioration of well quality overtakes the ability to increase development and the field enters into decline."
Despite concerns around strong OPEC oil production and fears around slowing demand sending oil prices lower, it is important to remember one dynamic with potential bullish ramifications: uncertainty around non-OPEC production.
We first discussed concerns in non-OPEC oil production in our 2Q 2018 letter and a September blog (Case for Continued Bull Market in Oil Prices: Declines in Conventional Non-OPEC Production Likely to Accelerate). As you will recall, over the last several years there has been a dramatic collapse in conventional oil discoveries in the non-OPEC world. Anemic upstream capital spending over the last five years nearly guarantees that the dearth of conventional discoveries will persist for some time to come. Moreover, a huge number of major development projects have been delayed or cancelled outright and, as a result, we expect that non-OPEC production will significantly disappoint over the medium-term.
Image Source: StudentEnergy.org
There are signs these disappointments are happening already, much sooner than we had projected. Only a few months ago, analysts were optimistic that Brazil would be a significant source of non-OPEC growth in 2018 with the IEA originally calling for 260,000 b/d of year-on-year growth. That figure has now been revised down by an incredible 90% as disappointments in deep-water development continue to challenge operators. These difficulties are spreading to other regions as well. At the beginning of the year, the North Sea was expected to buck its trend of declining production and grow by 100,000 b/d in 2018. Instead, persistent maintenance (a sign of field exhaustion) has resulted in production declining by 100,000 b/d instead of growing by a comparable amount, making 2018 the second consecutive year of North Sea declines.
Canada was able to grow production in 2018 to help meet global demand. However, this was the result of several decades-long lead-time projects finally coming online after substantial delays. In total, Canadian production is expected to have grown by 270,000 b/d this year as Suncor's world-class Fort Hills project finally came online in January, with total capacity of 200,000 b/d. Furthermore, Mackay River Phase 1, Horizon Phase 3, and the offshore Hebron platform all commenced operations at the end of 2017 and helped drive year-on-year production growth. Our models suggest that this growth cannot be repeated. Looking forward, the only Canadian projects expected to come online in 2019 are the Jackfish Expansion and the Christina Lake Phase G with a combined total of only 70,000 b/d or less than 25% of the new capacity that contributed to Canada's 2018 production growth.
Once again, all eyes are turned to the US shales as the only material source of non-OPEC production growth in 2019.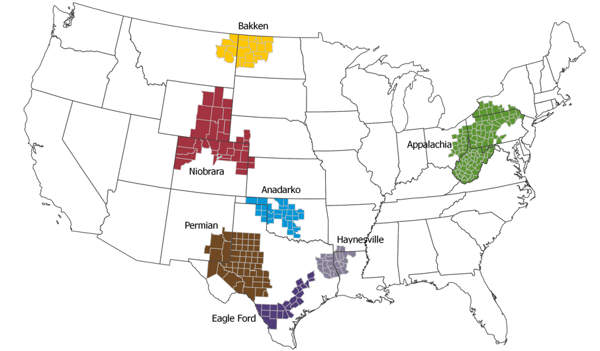 Image Source: cnbc.com
In a recent blog, U.S. Shale Oil Production is Poised to Falter, we explained why we believed two out of the three major US shales were now suffering the first signs of field exhaustion. In particular, the improvement in drilling productivity in the Eagle Ford and Bakken was only a fraction of what we would have expected given the much longer lateral lengths and greater well completion intensities being used. We concluded that these factors were masking the underlying deterioration in well quality as producers exhausted their tier-one inventory and were forced to drill their tier-two locations.
Since then, we have been watching for indications that our analysis is leading us in the right direction. While production from these fields continues to grow, we are now seeing signs that our models are indeed correct. For example, during the third quarter, 517 wells were completed in the Eagle Ford. Despite the fact that this was 15% greater than the 450 wells completed during Q4 of 2017, net production growth in the play slowed by 50% (68,000 b/d during 3Q2018 versus 129,000 b/d during Q4 of 2017). Similarly, during Q3, 392 wells were completed in the Bakken – 54% more than during Q4 of 2017. Despite this sharp increase in completion activity, net production only grew by half that rate. For example, production grew by 70,000 b/d during Q4 of 2017 and 85,000 b/d during Q3 of 2018.
These trends are exactly what you would expect to see in plays exhibiting the first signs of exhaustion. While it is still possible to grow production, it is requiring more and more effort to do so. Eventually, the deterioration of well quality overtakes the ability to increase development and the field enters into decline.
Image Source: Wikipedia.org
In analyzing the latest data, we noticed something that we had not expected. Based on this analysis, the Permian is also starting to experience its first signs of field-level exhaustion. During Q3, completions totaled 1,263 wells in the Permian or 8% greater than during Q4 of 2017. Despite this slight acceleration in development, production growth actually slowed from 270,000 b/d during Q4 of 2017 to 156,000 b/d during Q3 of 2018. While some of this data may have been distorted by infrastructure bottlenecks, it nevertheless suggests the Permian may be maturing more quickly than we had originally anticipated. In our past letters, we have said that never before has so much depended on seven counties in West Texas. If these counties are showing signs of fatigue, it would have an enormous impact on global oil balances. It is simply too early to tell if these data points from the Permian are material or just noise. We will continue to monitor them very closely and will report our findings in our next quarterly letter.
---
This blog contains excerpts of our recent in-depth Q3 2018 commentary, INTO THE "RED ZONE" WE GO. If you are interested in this subject, we encourage you to download the full commentary here.