Over the past 18 months energy prices went from an all time record low (negative oil prices) to an all time record high ($40 per mmbtu European natural gas). The energy crisis we had predicted is now upon us. Which insights proved the most popular? Please revisit our top three blog posts of the year.
---
Running Out of Spare Capacity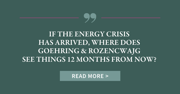 Global oil markets could not have looked grimmer than back in the summer of 2020. COVID cases were increasing again and further global economic lockdowns were being threatened. Only two months before, oil prices had crashed into negative territory for the first time in history as global inventories had surged and threatened to overflow. Between the never-ending pandemic and electric vehicles, common investment wisdom believed oil demand was in secular decline, bloated inventories would remain elevated forever, and oil prices would never recover.

---
Exploring Lithium-ion Electric Vehicles' Carbon Footprint
On April 14th, 2021, Jefferies published a research note entitled "Are EVs as 'Green' as They Appear?" in which they conclude an electric vehicle must be driven 200,000 km (or 124,000 miles) before its "whole of life" carbon emissions equals that of an internal combustion engine.

Continue Reading >
---
Setting the Stage for an Oil Crisis
We believe we are on the cusp of a global energy crisis. Like most crises, the fundamental causes for this crisis have been brewing for several years but have lacked a catalyst to bring them to the attention of the public or to the average investor. The looming energy crisis is rooted in the underlying depletion of the US shales along with the chronic disappointments in non-OPEC supply in the rest of the world. The catalyst is the coronavirus.
---
---